Homemade Tortillas
by: Kitchen Warehouse | August 26, 2022
Ingredients
2 cups masa harina
Very warm water
Salt
---
Method
For the dough
Place masa harina in a large bowl adding a pinch of salt and mix well.

Slowly add water and knead as you mix the water in.

Continue adding water until a dough forms.

Keep kneading the dough until it is nice and pliable. If the dough feels too dry, continue adding more water.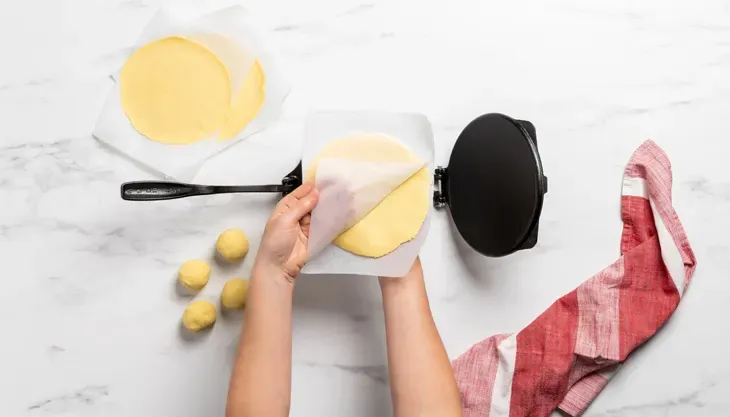 For the tortilla
Prepare a tortilla press by adding a sheet of baking paper, roughly the size of the tortilla press.

Make a small ball with the dough, and place it in the centre of the baking paper pieces, adding another sheet on top.

Close the tortilla press, pressing gently down to flatten the dough into a tortilla.

To cook the tortilla, peel the tortilla carefully off the baking paper, laying it on a hot grill to cook.

Start pressing the next tortilla.

Go back to the tortilla that is cooking and flip three times (every 20 seconds).

Remove the cooked tortilla from the hot pan and wrap it in a tea towel to keep warm.

Repeat the process until you have pressed and cooked all the tortillas.