A cut above the rest: Our top 10 cutlery sets of 2023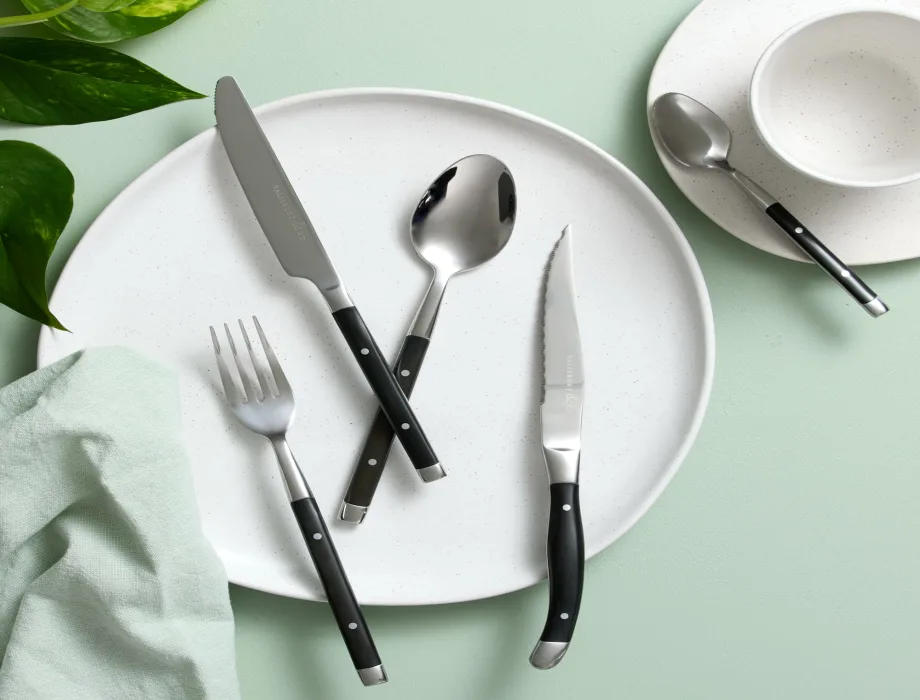 As a longstanding household essential, a cutlery set will see you through countless early morning breakfasts, brunch, lunch and family dinners spent catching up around the dining table. Think about the set your family had as a child and chances are you still remember the design on the handle or your favourite spoon to eat dessert with. So, when purchasing a new cutlery set, it's important to invest in a style that will make you smile for years to come.
What seems like a straightforward purchase might become more complicated as you delve deeper into the world of tableware. Weighing up your personal style with your household needs and dining habits can be stressful before even picking up a knife or fork. While you navigate the plentiful options we have on offer at Kitchen Warehouse, we thought it would be helpful to provide a little backup. That's why we've taken the time to list our top 10 cutlery sets of 2023.
Bold yet trim, the stainless steel Manchester set is simply elegant. With a quality selection of dinner knives, forks, spoons and teaspoons, each featuring a delicate teardrop handle, this set is destined to complete a memorable table setting. Made from 18/0 stainless steel with a classy mirror finish, it's dishwasher safe and comes with the Stanley Rogers 25 year guarantee. Stunning!
For a stylish, super slim design while maintaining a comfortable grip, the Albany range from Stanley Rogers is the answer. It still delivers on the traditional brief, featuring smooth, rounded handles, but offers a slight thinness when elongating towards the end. This Australian designed set is made from mirror finished stainless steel, but in an exciting twist, it also comes titanium coated in dazzling gold or modern black.
This set is ideal for a casual meal or fancy dinner party, built tough to handle whatever is thrown its way! This quality range is made from stainless steel with a mirror polish finish and satin silver handle, for classic elegance at a slightly lower price point. Mix it up with a set that includes a Bakelite steak knife, or the travel set for one with a stainless steel straw and chopsticks. There's nothing like quality cutlery on the go!
Though bistro dining may be casual, this set takes things up a notch, because each handle and serrated blade is individually handmade. The personal touch is seen in each double riveted handle made slimline to offer reliable support, and with Bakelite black detailing on the handles, this set is both supremely durable and attractive. There's a reason why this traditional French inspired style is still popular today.
Stanley Rogers is back at it with another stunning range. This time, the handles are rounded and more generously designed, with a cut-back angle at the base of each piece. The signature durability remains, constructed using 18/0 stainless steel with a silky mirror finish. Obviously perfect for an elegant affair, this set is also suitable for weeknight meals…you'll feel like every night is a special occasion!
2023 Top ten
Cutlery sets: A cut above the rest
This is the only Robert Welch set we offer at Kitchen Warehouse, and for good reason. It's a showstopping collection of teardrop cutlery, carefully weighted to create an exceptional dining experience. The Robert Welch story is illustrious, as Welch led the introduction of stainless steel cutlery to the United Kingdom and built his designs from the ground up to become internationally revered. Just by getting a glimpse of the craftsmanship, you can tell this premium set will be a conversation starter around the table.
This loveable set is another gorgeous example of a fine teardrop design, but this time it enlists different colour schemes for a modern touch. Shop this look in silver, onyx or gold titanium and enjoy the benefits of the smooth lines and bevelled edge of each piece. Thanks to its elevated design and long lasting structure, this set also makes an impressive wedding or anniversary gift.
Thanks to Stanley Rogers' fine craftsmanship, the elegant fluted design of the Baguette range takes what could have been a traditional set and makes it unique. The Baguette range includes full dining sets and standalone knife, fork and spoon sets, as well as matching dessert, cheese and salad servingware. You could deck out your whole kitchen with this range!
Forged from the highest quality stainless steel, the Rochefort set from Noritake is exquisite. The squared off handles are perfectly weighted, while the mirror finish tops off the refined look. Steeped in an almost 120 year history, Noritake's sense of pride shines through this superior set that will make you feel like you're dining out for every meal.
We're thrilled to cap this list off with a set that is both stylish and affordable. The Virtuo set from Salisbury & Co is made from stainless steel but features a durable coating in either matte black or brushed gold, so you can achieve a modern aesthetic at a modest price point. Moving into your first home or looking for contemporary cutlery that won't dent the budget? This is the set for you.
---
Feeling spoilt for choice? We don't blame you! At Kitchen Warehouse, we want to ensure you're offered a comprehensive selection of kitchen tools to suit your lifestyle. So when it comes to the features of a good cutlery set, consider the following before making your final decision.
Material: Whether you're focusing on durability or style, the material of your cutlery set plays a large role in the selection process. Most cutlery sets are traditionally made from stainless steel, but don't let that stop you from exploring more colourful options.
Size: How many people are you looking to serve? Whether you're part of a small household, have a handful of little mouths to feed, or are passionate about large scale entertaining, we stock different sized cutlery sets to make sure no one misses out.
Design: Never underestimate the power of an expertly designed knife, fork or spoon. Not only will the look of a cutlery set complement your kitchen decor, the way a handle is designed will also affect the feel of each utensil in your hand.
Price: Possibly the biggest differentiator between cutlery sets, price point is important. The price of a cutlery set often reflects its material, and therefore its durability, so it's crucial you weigh up the longevity you require of a cutlery set when planning your purchase.
Now there's nothing left to do but to delve into our illustrious range of cutlery sets. Shop the Kitchen Warehouse selection in-store or online.