It's easy to fall down the rabbit hole of wine tasting, with just a few sips revealing a wonderland of developing flavours and aromas. But have you ever invested in a good bottle of wine, only to find it didn't taste as good as you'd hoped? The answer may have been sitting comfortably in your hand all along. In this guide, we take you through a few different wine glass shapes and which varieties they are most suited to, so you always get the best out of your favourite drop.
Wine glass 101
Most wine glasses are constructed with four standard features; a base, stem, bowl and lip. Altering these structural elements creates a diverse range of wine glasses in varying shapes and sizes, each specially designed to enhance the aroma and flavour of different wine varieties. When shopping for glassware, it's important to keep your favourite wines front of mind so you can choose the perfect glass to complement them.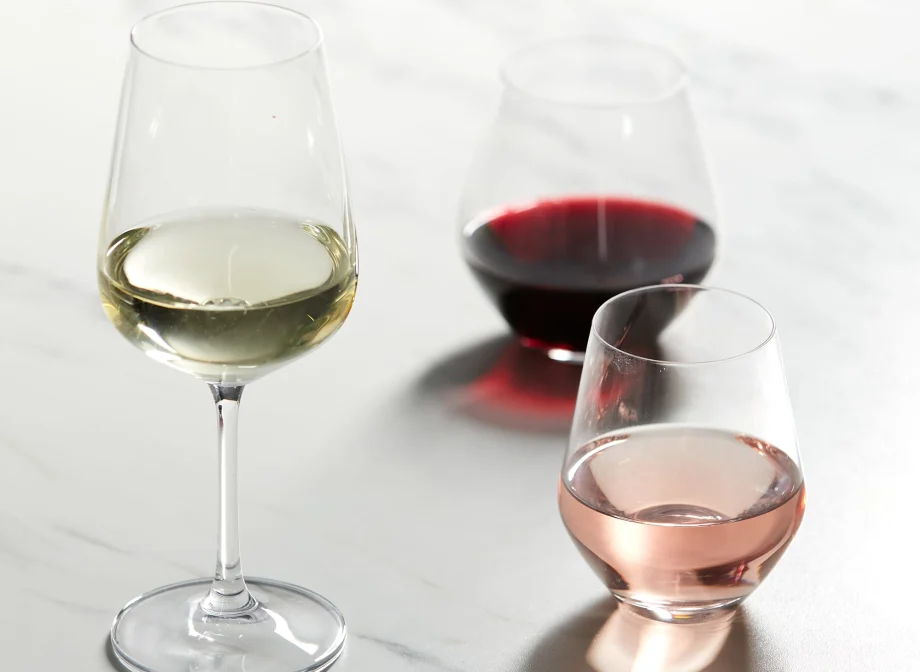 White wine glasses
White wine glasses are typically smaller in stature, with emphasis placed on the size of the bowl. A glass with a larger bowl gives room for the flavours of a wine to develop, which is particularly important when drinking richer full bodied whites. This is helped by a wider lip designed to highlight sweetness on the palate.
Ideal for: Chardonnay and Semillon.
Glasses with a small or narrow bowl are best suited to light bodied, fruity and floral wines. Rather than leaving room to breathe, it's important to contain the aromatics of these lighter wines inside the bowl to maintain intensity. A smaller lip guides the aromas to the nose, while the wine is sipped to the back of the palate, eliminating any overwhelming sweetness. The long stem is important here too, keeping the bowl away from warm hands so the wine stays crisp and cool.
Best match: Riesling, Sauvignon Blanc, Pinot Gris and Rosé.
BESTSELLING
White wine glasses
Red wine glasses
Red wine glasses can seem overwhelming with their huge goblet-like appearance, but it serves an important purpose: to tackle tannins. Tannins are a natural construct of red wine that create sublime flavour complexity, but can leave a bitter or dry taste if not aerated properly. The large surface area of a red wine glass allows room for the tannins to oxidise and soften before reaching the palate.
Light red wines benefit from a generous, fish bowl style glass with a thin lip to capture aromas and send sweet flavours towards the tip of the tongue. Perfect for swirling!
Best suited: Pinot Noir, Lambrusco and Grenache and medium bodied varieties like Merlot, Tempranillo and Sangiovese.
Taller red wine glasses, commonly referred to as Bordeaux or Cabernet Sauvignon glasses, include a long stem and wider lip to complement full bodied reds. This design directs wine to the middle and back of the palate while diminishing harsh aromatics for a smoother drinking experience.
Perfect for: Cabernet Sauvignon, Malbec, Zinfandel, Shiraz and Syrah.
BESTSELLING
Red wine glasses
Stemless wine glasses
A common companion in a casual setting, stemless wine glasses are stable, reliable and the absence of a delicate stem makes them easy to load and safe to use in the dishwasher. While you can find stemless glasses targeted to red and white varieties, universal stemless glasses are popular with a rounded bowl that's neither too narrow nor too wide. Though in the absence of a stem or base, be mindful not to overheat your wine when holding the glass.
Ideal for: Picnics and outdoor dining as they are less likely to topple over and you can use them for most wine varieties.
BESTSELLING
Stemless wine glasses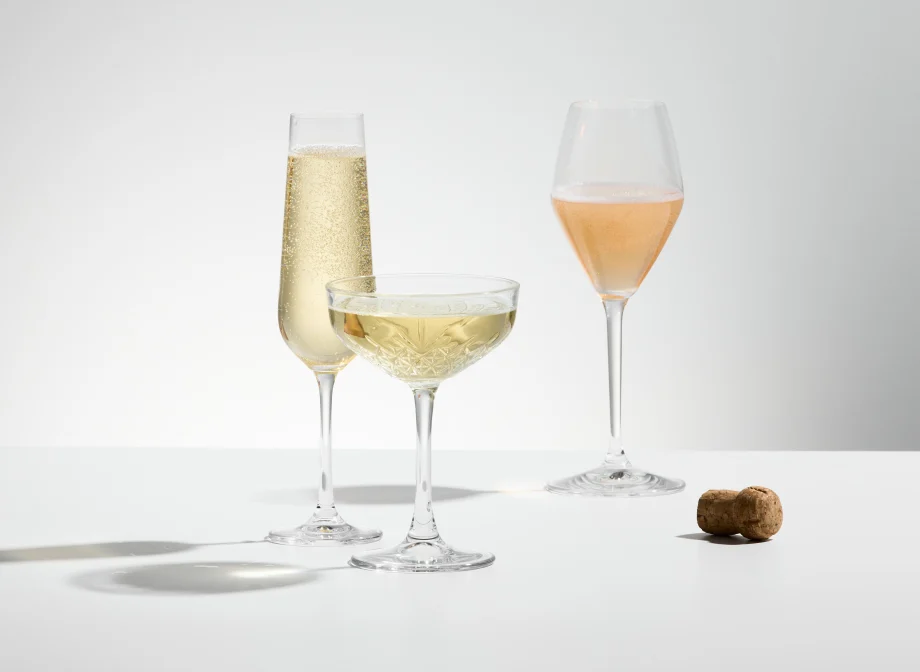 Champagne glasses
There's something about the sophisticated look of a champagne glass that instantly calls for celebration. With origins in the 17th century, the coupe glass was infamously frivolous, designed to drink champagne quickly rather than maintain effervescence. Today, coupe glasses are mostly chosen for their fashionable attributes, while those wanting to preserve their bubbles lean towards taller champagne glasses.
The elongated design of a classic flute captures intensity, while a tulip glass gives more room for aromas to develop. Both encourage the bubbles to rise without escaping, with a long stem that maintains a cool temperature. In other words, these glasses keep the party going all night long!
Made for: Champagne, sparkling wine or prosecco.
BESTSELLING
Champagne glasses and flutes
Shop the range at Kitchen Warehouse
With this expertise under your belt, it's time to shop for your dream glass! You'll find all these wine glasses plus an extensive range of drinkware accessories at Kitchen Warehouse. Savour every last drop of your favourite wine in a glass that will do it justice.