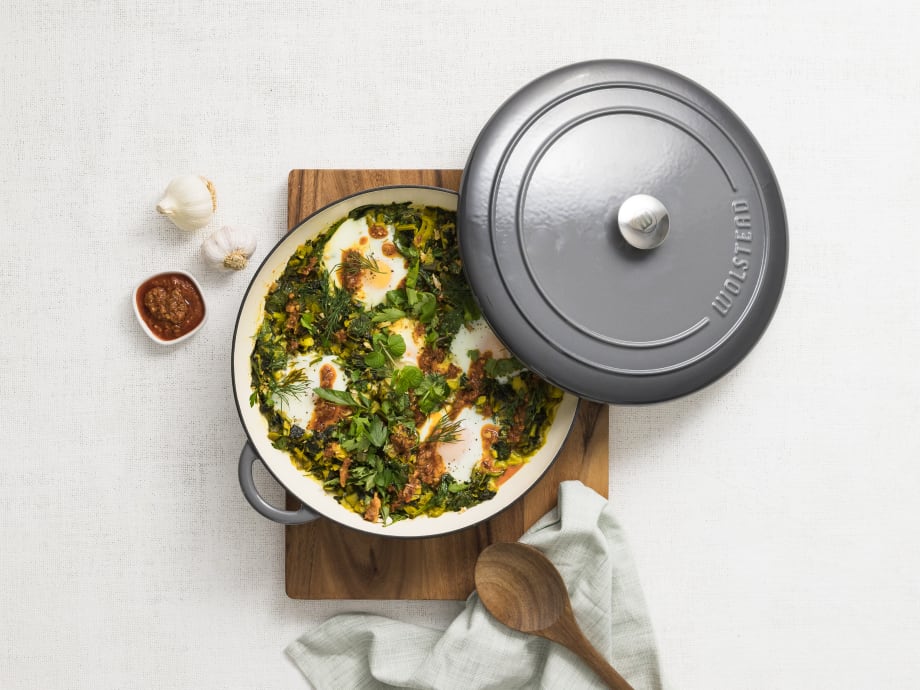 Serves: 5
Prep: 25 minutes
Cooking time: 1 hour and 25 minutes
Ingredients
---
8 tbsp extra virgin olive oil
800g leeks, washed and sliced
1.5 tsp salt
7 cloves garlic, crushed
2 tsp cumin seeds, toasted and ground in a mortar and pestle
1 tsp coriander seeds, toasted and ground in a mortar and pestle
100g coriander, chopped
60g dill, chopped
100g parsley, chopped
10 spring onions, trimmed and thinly sliced
450g baby spinach
1 tsp ground turmeric
Freshly ground black pepper, to season
300ml water
3 limes, juiced
5 medium eggs
Crispy fried garlic, to serve (store bought)
1 tbsp harissa
Method
---
Add 5 tbsp of the olive oil to a Wolstead Endure Round Enamel Cast Iron Shallow Casserole over medium heat. Once the oil is hot, add the leeks and ½ tsp of salt and cook, stirring occasionally, until the leeks are soft, about 15 minutes.
Add the crushed garlic cloves, cumin and coriander seeds, stirring occasionally, until they become aromatic, 2 to 3 minutes, then add the chopped coriander, dill, parsley, and spring onions. Cook, stirring often for approx 20 minutes.
Increase the heat to medium-high, add the spinach and cook until wilted. Add the turmeric, 1 tsp of salt, and a good grind of pepper.
Add 300ml of water. Cook for 10 minutes, stirring occasionally.
Stir in the lime juice. Add more salt and pepper if needed.
Make 5 small wells in the green base. Crack an egg into each well and sprinkle them lightly with salt and pepper. Cover the dish and cook for about 3 to 5 minutes over low heat or until the whites are set and the yolks are runny. Longer if preferred.
Sprinkle the crispy garlic and drizzle harissa over the eggs. Top with more fresh herbs. Serve the shakshuka immediately with lime wedges to squeeze alongside.